WE HAVE A LARGE COLLECTION OF SONGS SCATTERED AROUND THE INTERNETS OF THE WORLD
If you poke around der interweb, you can find mp3 files of some of the other tracks listed on this page. But click on the underlined ones to get started.
COMPILATION TRACKS

Certified Diskette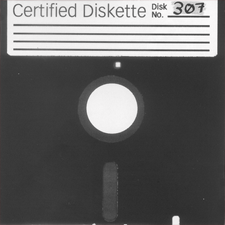 July 2006
307 Knox Records
Includes "City of Medicine" by Blackstrap
Another survey of our local music scene, Our track is a remix of one of our first songs. This also includes "Mad Cow" a electronic pop song from one of Eliza's other bands, Snuggle Factor 10. And there's other local highlights, like Red Collar, Veronique Diablolique, and Wigg Report.
Chicks Rock
October 2004
307 Knox Records
Includes "Home Security" by Blackstrap
This comp is a great survey of some of the best bands of the Triangle, including great tracks from des_ark and Gerty. Packed in a DVD case, it includes a 90 page fanzine.



Durham Rocks
307 Knox Records
August 2004
includes "TGI Doomsday" by Blackstrap.

A compliation of bands appearing at the 2004 Durham music festival, including quite a groovy track from Dom Casual.